If you're looking for a pair of the best wireless earbuds that your budget can buy, you've come to the right place. But before you continue, there are some questions you need to answer so you can better choose, because there are dozens of makes and models out there. First, ask yourself what the primary uses for them will be and put them in order — listening to music, commuting, working out, long flights, video calling, or multitasking at work. This will help you prioritize whether you should put features like active noise canceling (ANC) and transparency mode above or below things like sound quality, battery life, comfort, and Bluetooth multipoint connectivity. Once you have a clear idea of what you want, you can then take into account your budget and slot in the pairs that fit the bill.
That's where this list of the best wireless earbuds comes in. We test a boatload of wireless earbuds. And the ones that really stand out from the crowd in terms of value, performance, and features are assembled right here.
At the top of our list is the Jabra Elite 7 Pro. Not because they're the best at any one thing, but because they do a great job at everything that matters and they do it for $200 — a price that is roughly the midway point between the most and least expensive models you can buy. But you'll also find the second-gen Apple AirPods Pro on this list, of course, alongside the excellent Sony WF-1000XM4s, and picks from JBL, Technics, Bose, and many more. Let's go.
Want a set of true wireless earbuds that are guaranteed to not break the bank? Check out our selections for the best cheap headphones with plenty of models all under $100.
Jabra Elite 7 Pro
The best overall value
Pros
Super comfortable
Great sound quality
Excellent call quality
Very good ANC and transparency
Good battery life
Wireless charging
Tons of customization options
Excellent water/dust protection
While there's no denying that Sony's WF-1000XM4 are fantastic, Jabra has pulled off a minor miracle with the Elite 7 Pro by creating a set of earbuds that do everything really well and cost considerably less than the XM4. They're so good that we gave them a very rare 10/10 score.
Why are we so bullish on the Elite 7 Pro? Let's start with comfort and fit. They're the smallest buds Jabra has ever made, and that translates into the most comfortable buds it has ever made. We'd argue that they're some of the most comfortable earbuds, period. The UE Fits (below) are slightly more comfortable, but they lack active noise cancellation (ANC) and many other features.
Speaking of ANC, the Elite 7 Pro are fantastic at dealing with unwanted noise. So good, in fact, that the WF-1000XM4 and Bose QuietComfort Earbuds (see below) are only a hair better. Transparency is also very good, and you can switch between these modes almost instantly with a press of a button.
Despite not being aimed at the sporty crowd per se, the Elite 7 Pro are actually hardier than most earbuds, with an IP57 rating that makes them completely waterproof. Jabra even offers a free upgrade on its water and dust warranty, giving you two years of coverage.
Sound quality, while not as nuanced as the Master & Dynamic MW08 or the WF-1000XM4, is nonetheless superb. Bass is pronounced without being overpowering, and there's lots of clarity and precision throughout the rest of the frequencies, so vocals are never drowned out by the beat. Lots of EQ adjustments within the Jabra Sound+ app are available if you need them.
Battery life is a very impressive 7.5 to 8 hours on a charge, even with ANC on, and the case (which can charge wirelessly) brings your total playtime to 30 hours. A fast charge of five minutes will buy you an extra hour of use if you need a quick boost.
If you spend a lot of time on Zoom or voice calls, the Elite 7 Pro could be your new best friends. Call quality is excellent, even in very noisy conditions, thanks to Jabra's use of voice-sensing bone conduction microphones that are able to separate your voice from other sounds.
There are tons of extras too, like device location, auto-pause for music, microphone muting while on calls, Bluetooth multipoint connectivity, and a fit test to ensure you've chosen the right size of silicone ear tips.
Jabra Elite 7 Pro
The best overall value
Sony WF-1000XM4
Outstanding sound and ANC
Pros
Great sound quality
Good battery life
Excellent noise cancellation
Wireless charging
Cons
May not fit small ears
Slightly lacking in high-end detail
It's hard to beat Sony's flagship WF-1000XM4 earbuds for an overall superb listening experience. Sony has thrown the kitchen sink at these buds. Now with proper water resistance for workouts, wireless charging, and Sony's own LDAC Bluetooth codec for wireless hi-res audio performance, they're the whole package.
Sound quality has always been a Sony strength, and the XM4 continue this tradition with even richer bass. There's a warmth and resonance to the low end on these buds that benefits a variety of music genres, especially with string instrument- and drum-centric styles like jazz, classical, and even EDM. Sony made the decision to equip the XM4 with foam eartips as opposed to the usual silicone style. This increases comfort and provides an excellent and secure seal, but it also has a slight tendency to rob the high frequencies of precision.
The Sony Headphones app gives you deep control over all settings, like EQ, ANC, transparency, and touch controls, and includes an option to customize both the earbuds and your music apps (like Tidal, Deezer, and Amazon Music) for use with Sony's 360 Reality Audio (360RA) immersive music format.
Active noise cancellation is superb, as is transparency mode, but Sony throws in a cool new feature: Voice sensing. Simply start talking and the XM4 will automatically shift into transparency while dropping the volume of your tunes. Speaking of, well, speaking, the WF-1000XM4 are some of the few true wireless earbuds that give you hands-free voice access to your choice of Google Assistant (Android only) or Amazon Alexa (iOS and Android).
Battery life, at eight hours of playtime with ANC turned on and 12 hours when it's off, is excellent, although total playtime — at 24 hours — is pretty standard. A fast charge will get you an additional hour for just five minutes of charging.
Our only critiques of the WF-1000XM4 are small: Their size and shape might simply be too big to fit some ears, and we wish Sony had included simultaneous wireless connections via Bluetooth Multipoint. If this feature matters to you, check out the Jabra Elite 7 Pro, Elite 7 Active, and both Technics EAH-AZ60 and AZ80 models, below.
Sony WF-1000XM4
Outstanding sound and ANC
Earfun Air Pro 3
The best budget earbuds
Pros
Very comfortable
Big, dynamic sound
Customizable controls
Bluetooth Multipoint
Great battery life
Cons
No wear sensors
So-so noise canceling
Imprecise touch controls
If you're looking to spend less than $100 on a great tried-and-tested line of true wireless earbuds, the third generation of Earfun's Air Pros is a pretty good bet for $80. Our headphone guru, Simon Cohen, has been a fan of the Air Fun line for years and reports in his review of the Air Pro 3 that Earfun hasn't reinvented the wheel here, instead just making some minor improvements to the noise-canceling buds.
With a refined silhouette and a new silver-blue color, the stem-style earbuds with touch controls still maintain their great fit, with four sizes of silicone eartips to help you zero in, making them a good choice for athletes or gym rats — they're also IPX5 water resistant to stand up to any sweat or light rain they might be subjected to.
And while Cohen wasn't blown away by the active noise cancellation (ANC) and transparency mode, he said they were OK at blocking out general city street noise and letting in enough traffic sounds to keep you aware, which is more than you'd get from many sub-$100 ANC earbuds. Call quality on the Air Pro 3s is surprisingly good, too.
The star of the show, however, is the Air Pro 3's Bluetooth capabilities, which support the newest Bluetooth LE Audio standard and its LC3 codec. What does that mean, you ask? It means that the Air Pro 3s can stream higher quality audio while using less energy (the LE stands for low energy), and it also supports Bluetooth Multipoint connections — like connecting to a smartphone and laptop at the same time. But that's not all, Jim. The Earfun Air Pro 3s also support Qualcomm's aptX Adaptive codec, meaning you can enjoy the beautiful detail of 24-bit/48kHz (lossy) hi-res audio you can get from streaming services such as Tidal or Apple Music. Not bad for $80.
Speaking of sound, the Air Pro 3s deliver there, too, with a punchy, bass-forward sound. And although Cohen says that they're tuned a little aggressively out of the box, the six-band EQ in the earbuds' app does a great job at tempering that.
The battery life of the Earfun Air Pro 3s is another checkmark for these overachieving earbuds, boasting up to nine hours per charge (45 hours with the case with ANC off), and up to seven hours with ANC on (37 with the case).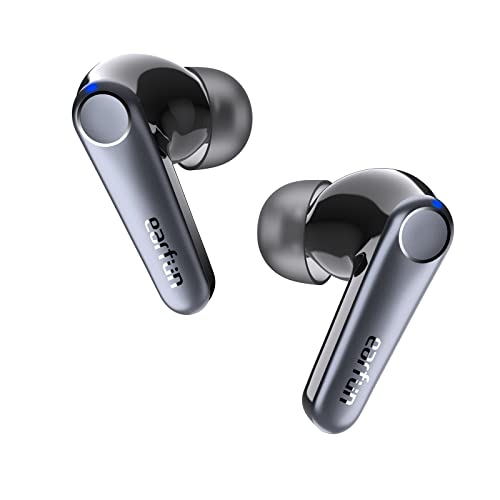 Earfun Air Pro 3
The best budget earbuds
Bose QuietComfort Earbuds II
Impressive noise cancellation
Pros
Very comfortable
Very good sound quality
Outstanding noise cancellation
Very good transparency
Adjustable EQ modes
Cons
No wireless charging
No Bluetooth multipoint
Poor outdoor call quality
If you know anything about Bose, you know that noise cancellation is kind of the company's calling card. Bose was the first to debut the technology in a set of headphones and has been refining the science of silence ever since.
Now, we have the second-gen QuietComfort Earbuds (QCE II) and they're a marvel when it comes to keeping the outside world at bay. They do a better job of it than any of the company's headphones (or any other company's headphones) and with the possible exception of the second-gen AirPods Pro, you can't get better ANC in a set of earbuds either.
Thanks to ActiveSense, even transparency mode (Bose calls it Aware Mode) is improved with the ability to scan for and reduce the volume of really loud sounds.
Better yet, Bose managed to do this while making the QCE II way smaller than the first-gen, and that goes for their charging case too, which is now small enough to fit in a pocket.
Sound quality remains very good and Bose has even added a few EQ presets so you can dial in the sound you want – something the original QCE didn't offer. Indoor call quality is also excellent, though we did notice that the earbuds struggled a bit when outside.
Battery life is on the lower end of the true wireless spectrum: Six hours per charge, with an additional 18 hours in the charging case. You can quick-charge the earbuds, which earns an extra two hours after 20 minutes. Unfortunately, Bose has eliminated wireless charging on the QCE II.
Like the WF-1000XM4, there is no Bluetooth multipoint pairing. On a less expensive set of earbuds, or perhaps a set that isn't as clearly targeted to travelers as the QuietComfort Earbuds II, we might look the other way on this oversight, but we think it's a missed opportunity.
These caveats aside, the Bose QuietComfort Earbuds II are easily some of the best true wireless buds you can buy, and a must-have for those who crave quiet.
Bose QuietComfort Earbuds II
Impressive noise cancellation
Master & Dynamic MW08
The best sound for audiophiles
Pros
Gorgeous design and materials
Very comfortable
Excellent sound quality
Really long battery life
Effective transparency mode
Good call quality
Easy and intuitive controls
Cons
Expensive
Limited customization
No wireless charging
No EQ adjustments
Weak ANC performance
Master & Dynamic (M&D) has been making awesome true wireless earbuds for several years, and its latest model, the MW08, are seriously great buds for sound quality.
We were huge fans of their predecessors, the MW07 Plus, and the MW08 are even better. Battery life is now around 12 hours on a single charge if you disable active noise cancellation (ANC), and their slick, stainless steel charging case packs an additional 30 hours — that's near the very top for true wireless earbuds.
The buds themselves are compact and comfortable, and M&D has used ceramic and aluminum parts to give the MW08 a luxurious, high-end look and feel.
We weren't especially impressed with their noise-canceling chops — you'll get superior ANC from the Jabra Elite 85t, Bose QuietComfort Earbuds II, and Sony WF-1000XM4 — but when it comes to sound quality, we think the MW08 are the current cream of the crop.
With a superbly tight bass response, incredibly detailed midranges, and crystal-clear highs, these are the earbuds for those who want a true wireless way to sit back and explore their favorite tracks with stunning fidelity.
Because of their vented design, which lets a little air circulate through the sound tubes, they possess an open airiness that produces a much wider soundstage than earbuds that use a fully closed architecture.
The physical controls are highly intuitive and give you access to every feature you could want, from volume adjustments and triggering your phone's voice assistant to managing phone calls.
Speaking of calls, the MW08 are some of the best earbuds we've found for call quality. They avoid the compression of your voice normally associated with earbud calls and do an admirable job of canceling out background sounds.
$299 is certainly a high price to pay, but if you want a set of true wireless earbuds that don't compromise on sound quality, style, or battery life, you can't go wrong with the Master & Dynamic MW08.
Master & Dynamic MW08
The best sound for audiophiles
Apple AirPods Pro 2
The best for Apple fans
Pros
Excellent noise cancellation
Top-notch transparency
Very good sound quality
Great call quality
Fun charging case features
Cons
Not ideal for Android
Still no EQ adjustments
With the original AirPods Pro proving to have been one of the most successful wireless earbuds of all time, Apple needed to show it could do it again with the second-gen model. It did.
The AirPods Pro 2 are exactly what we were hoping for: the same great design, the same comfortable fit, but now with improvements in everything from ANC to battery life. And they don't cost a cent more than the first-gen.
Active noise cancellation is shockingly good. These are the only buds to give the Bose QuietComfort Earbuds II some real competition, and our reviewer argues that in some ways, the AirPods are now better. Transparency — always a high point for the AirPods Pro — is also improved through a feature called Adaptive Transparency. Just like Bose's ActiveSense, it keeps loud sounds from causing you discomfort and it works like a champ.
These advancements, courtesy of the new Apple H2 chips in each earbud, also yield better call quality that handily kills off any background sounds that might interfere with your voice being heard.
Sound quality is better too, with more detail and depth, and with excellent bass response. They're still not critical listening tools and there are still no EQ adjustments, but if you love music, you'll love the way the AirPods Pro 2 sound.
Battery life now stands at six hours per charge, with 30 hours total when you include the charging case – which, by the way, now has a built-in speaker, IPX4 protection, a lanyard loop, and an Apple U1 chip for ultra-precise location reporting via Find My.
Really like the Apple AirPods Pro but would prefer to spend a little less? Here are the best AirPods Pro alternatives.
Apple AirPods Pro 2
The best for Apple fans
Google Pixel Buds Pro
The new standard for Android users
Pros
Compact and comfy
Very good sound quality
Very effective ANC/transparency
Wireless charging
Bluetooth Multipoint
Cons
No real EQ adjustments
No high-quality/low-latency codecs
Still no iOS Pixel Buds app
Apple has its AirPods Pro, and Google has answered with its first "Pro" earbuds. The Pixel Buds Pro build on their lesser cousins with the addition of Active Noise Cancellation that's just a hair's breadth away from Apple's.
The Pixel Buds Pro are comfortable, they look good (and come in four colors), and the starting price undercuts AirPods Pro by $50. The multipoint connection works great with multiple devices, and Google's got a little extra AI available for Android users, with the goal of better predicting what you need to hear from which device at what time. It's not quite magic, but it works very well.
That's not to say that you can't find serious competitors in the space for a little less money. You can. But the Pixel Buds Pro absolutely are a strong winner from Google, and that means extra software features if you're also using an Android phone.
Still in the works, however, is the inclusion of spatial audio. For now, we'll wait on the firmware update.
Google Pixel Buds Pro
The new standard for Android users
Technics EAH-AZ60
Classic Technics sound, affordable ANC
Pros
Excellent sound quality
Excellent noise cancellation
Hi-res audio support
Hands-free Alexa
Bluetooth multipoint
Cons
No wireless charging
No in-ear sensors
For the price, we are hard-pressed to think of a set of earbuds that offer a better combination of sound quality and ANC performance than the Technics EAH-AZ60 — they are superb. But the best part is that these qualities are just the starting point for a set of buds that might fly under a lot of people's radars.
They're very small and ergonomically shaped — a big improvement over the older AZ70 — and we'd argue they're almost as comfortable as the Jabra Elite 7 Pro, which is saying something. The AZ60s lack some of Jabra's features, like full waterproofing (the AZ60s are sweat- and splash-proof), wireless charging, and wear sensors, but they justify their higher price through their amazing sound, and absolutely killer noise cancellation and transparency modes.
Like the WF-1000XM4, they support Sony's LDAC Bluetooth codec, which will give you as close to lossless, hi-res audio as you can get right now in a set of wireless buds (as long as your Android phone supports it). Android users also get the option of hands-free access to Amazon Alexa, which is a helpful feature.
Battery life is very good at seven hours per charge and they'll last for a total of 24 to 25 hours when you include their charging case. But my favorite feature is Technics' inclusion of Bluetooth multipoint on the EAH-AZ60 — which lets you stay connected to two devices at once — perfect for those of us who need to juggle Zoom calls on our computers and voice calls on our phones.
If you like the idea of wireless hi-res audio via the LDAC codec, the 1More Evo are an excellent alternative, at a significantly lower price. They can't quite match the AZ60's ANC performance, but given how they sound, you may not care.
Technics EAH-AZ60
Classic Technics sound, affordable ANC
Final Audio ZE3000
The best sound for under $200
Pros
Unique design
Comfortable, secure fit
Excellent sound quality
IPX4 water resistance
Good battery life
Good codec support
Cons
No active noise cancellation
No transparency mode
No wear sensors
No wireless charging
With features like ANC, transparency mode, wear sensors, and wireless charging now showing up on wireless earbuds for as little as $100, can we really justify recommending a set that has none of these options, yet still cost $149? Yes, as long as that set is the Final Audio ZE3000.
The ZE3000 may lack a lot of bells and whistles — in fact, they're missing just about every feature we can think of – but they excel in one area that matters above all else for music lovers: Sound quality. With an impressive amount of accuracy and detail, these earbuds offer the best sound quality you'll find under the $200 mark, and we'd argue they even hold their own against many models that are more expensive than that.
The ZE3000 have a warm but still very balanced EQ that lets each frequency come through clearly and distortion-free, which provides the perfect sonic platform for a huge array of music genres. We think they perform their best with jazz, classical, and vocals-intensive tracks, but their energetic mids and highs make them just as enjoyable for pop, rock, and EDM.
Bass is beautifully balanced with the rest of the frequency spectrum, but this is one area where some folks may find the ZE3000 lacking — if you want chest-pounding low-end, you should consider the Technics EAH-AZ40 instead.
With an IPX4 rating and seven hours of battery life (35 in total), the ZE3000 can join you on any adventure, and in quiet environments, they have stellar call quality. As long as you can forgive their lack of other features, these earbuds will reward you with fabulous sound for the money.
Final Audio ZE3000
The best sound for under $200
Jabra Elite 7 Active
The best for sports and athletes
Pros
Comfortable and secure fit
Great sound quality
Good noise cancellation and transparency
Wear sensors
IP57 dust and water protection
Customizable controls and EQ
Wireless charging
Bluetooth Multipoint
Very good battery life
Cons
No earhooks for added stability
Jabra keeps knocking it out of the park when it comes to fully-featured true wireless earbuds that are priced well below the competition. The Elite 7 Active are an ideal choice for fitness buffs who don't want to compromise on any aspect of the true wireless experience. As such, these buds possess nearly every feature of the Elite 7 Pro, plus a special rubberized outer coating that keeps the earbuds locked into place, without the use of ear hooks or ear wings/fins.
Sound quality is very good, with plenty of low-end bass for powering your workouts. Equally good are Jabra's ANC and transparency modes which you can toggle between very quickly with a press of a button. Speaking of buttons, the Elite 7 Active's physical controls are among the best you can get: Easy to use, precise, and totally customizable within the Jabra Sound+ app. You can even press them while wearing gloves — something that touch controls rarely offer.
Battery life is an excellent eight hours per charge and you'll get up to 30 hours of time with the included charging case's capacity. A five-minute quick charge adds another hour of life if you need it. Within the Sound+ app, you'll find loads of customizations. A full equalizer with presets lets you adjust the sound profile, there's a fit-test to make sure you've selected the right size of eartips, and you can adjust the ANC calibration to suit your specific hearing and preferences.
The only thing the Elite 7 Active were missing was Bluetooth multipoint, but as of a January 2022 firmware update, that too has been added.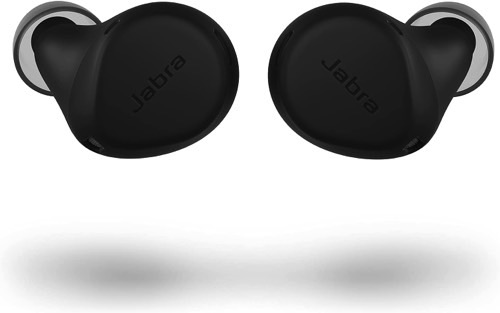 Jabra Elite 7 Active
The best for sports and athletes
Beats Studio Buds+
Impressive ANC and call quality for under $200
Pros
Very comfortable
Great battery life
Excellent noise canceling
Solid call quality
Clear transparency mode
Cons
No wireless charging
No Bluetooth Multipoint
No EQ controls
You'd be forgiven if you thought that the Beats Studio Buds+ were the second generation of Beats' excellent Studio Buds. But they aren't. As the story goes, they somehow briefly showed up on Amazon before being pulled down, but the cat was already out of the bag. At just $20 more then the Studio Buds, the Buds+ turned a few heads with their nifty transparent look. But under the hood is another story as the Buds+ are better in nearly every way, including battery life, active noise cancelation, and transparency mode. For just $170, you should just get them.
Also available in ivory and a black/gold option, the Buds+ are fantastic ANC earbuds that Beats says offer 160% better ANC than the regular Studio Buds (which you can still buy, by the way). Our reviewer Simon Cohen not only agreed with this assessment, he thought it was higher putting them on par with top-tier ANC buds like the AirPods Pro 2. With new mics and noise processing, the Buds+ superbly block outside noises like construction, subway and plane sounds, and other unwanted audio annoyances so you can enjoy music to the fullest. Transparency mode is also improved and the call quality is clear.
But how do they sound? Well, if you're familiar with the Studio Buds, the Buds+ sound very similar, as even though Beats says that 95% of the Buds+'s internal components in the earbuds and the case are new, the drivers are not. But that's not a bad thing — they still sound clear, full, and energetic. The only thing on our wish list is that they had some kind of EQ control and that they supported more than just SBC and AAC Bluetooth codecs.
Battery life on the Buds+ has taken a big step in the right direction. Despite the measly one-hour bump in their playtime per charge, going from eight to nine hours, the total playtime goes from 24 to a whopping 36 hours — both ratings are without ANC on. With ANC on, you get about six hours per charge. A five-minute quick charge, however, will buy you an hour of playtime, which is pretty good.
IPX4 water and sweat resistance makes them OK for gym folk (feel free to give them a clean with some water afterwards), and they're comfy as heck.
Beats Studio Buds+
Impressive ANC and call quality for under $200
JBL Tour Pro 2
Everything but the kitchen sink earbuds
Pros
Tons of features
Very good ANC
Solid sound quality
Strong battery life
Custom EQ and controls
Cons
So-so call quality
No high-quality codecs
Smart case doesn't add a lot of convenience
The $250 JBL Tour Pro 2 offer an excellent-sounding pair of wireless earbuds with great ANC, and respectable battery life, which, under normal circumstances, might be all you'd need to know about these impressive buds if it weren't for the cool and surprisingly functional smart charging case that offers a small touchscreen that opens up a ton of features you didn't know you needed.
One of the first sets of earbuds to bring the smart charging case to life at this level (there was a rumor that Apple's AirPods Pro 2 were to have it), the JBL Tour Pro 2 lets you keep your phone in your pocket, allowing you do everything from the basics (play/pause, volume control, track skip, accept/reject calls) to the more advanced (turning on/off ANC and transparency mode, EQ settings) to the borderline unnecessary (get notifications and even previews of messages and emails, and add lock screen art). All of this is controlled and configured in the JBL headphones app, and whether you totally buy into it all, there are some pretty useful features, a more detailed account of which you can read about in our full review.
Outside of all that, the JBL Tour Pro 2 are an excellent-sounding, comfortable pair of buds that, our reviewer says, stand up to the top-notch sound quality of the AirPods Pro 2s. While they only support SBC and AAC Bluetooth codecs, they offer adjustable EQ in the app as well as new tricks like Person-Fi, which uses the app to assess your hearing to personalize the sound to suit. The Tour Pro 2s will even perform a fit test so you can pick the best eartips, and they have a spatial sound setting that tries its best to imitate Apple's immersive spatial audio with a few filters for movies, music, and gaming. They don't do head tracking like Apple's, but they will let you listen to Dolby Atmos audio and Atmos Music tracks.
ANC on the Tour Pro 2 is also top-shelf, effectively blocking out intrusive conversations and loud noises letting music and podcasts to be heard perfectly, and there's a Silent Now mode that disconnects the buds from Bluetooth and turns off notifications for a do-not-disturb experience. There's also an adaptive ANC mode, which adjusts itself as outside noises change. Ambient (transparency) mode has four settings depending on what you want to hear (conversations and surroundings, for example).
See, we mentioned that these are "everything but the kitchen sink" earbuds, but we can't cover it all here. The last thing we'll mention is the battery life. The JBL Tour Pro 2s deliver up to six hours with adaptive ANC on, eight with non-adaptive ANC, and up to 10 with ANC completely off. JBL boasts up to 40 total hours of playback from the case, and a 15-minute charge will deliver four hours of battery life.
JBL Tour Pro 2
Everything but the kitchen sink earbuds
Apple AirPods (3rd gen)
The best semi-open fit earbuds
Pros
Very good sound quality
Wireless MagSafe charging
Head-tracking spatial audio
IPX4 water resistance
Cons
Not great in noisy environments
If you love the comfortable fit and easy simplicity of Apple's original AirPods, you owe it to yourself to consider getting the 3rd-gen AirPods, which you'll sometimes see listed as AirPods 3. The new design takes some of the best features of the AirPods Pro, like a more secure fit, better sound quality, and physical pinch controls on the stems, while keeping the semi-open shape that AirPods fans have enjoyed for years.
The AirPods 3 come with wireless charging as a standard feature (it used to be a $50 upgrade on the second-gen units) and the case is compatible with both Qi-standard chargers as well as Apple's MagSafe chargers. Battery life has also been improved, with six hours per charge and 30 hours of total play time with the case — giving these AirPods the best stamina of any of Apple's iconic white buds.
Like the other AirPods models, the 3rd gen have wear sensors that can auto-pause your tunes when you remove a bud, plus Apple has added head-tracking spatial audio, a feature that was previously reserved for the AirPods Pro and AirPods Max. The feature only works with Dolby Atmos Music and multichannel movies from select streaming apps like Apple Music and Apple TV+, but it's a fun and very immersive way to enjoy movies and music.
But the big upgrade for AirPods fans is the third-gen's sound quality. It's a big leap from the first and second-gen products, and when you're in a quiet room, they can sound every bit as good as the more expensive AirPods Pro. The new buds also get an IPX4 rating for water resistance, something that previous AirPods lacked. When combined with the AirPods 3's more secure fit, they're now a gym-ready companion.
Apple AirPods (3rd gen)
The best semi-open fit earbuds
Technics EAH-AZ80
Most comfortable high-end earbuds
Pros
Really comfortable
Warm, detailed sound
Top-notch noise cancellation
Class-leading call quality
Convenient 3-way Bluetooth
Cons
A bit pricey
Slightly lacking in clarity
If comfort in your wireless earbuds is your primary concern, and you don't mind paying a premium for it (and excellent ANC and sound), then the Technics EAH-AZ80 earbuds' seven sizes and shapes of silicone eartips help make sure you can dial in a perfect, secure fit, that will stay comfy after several hours of use. How comfy? In our review, Simon Cohen figures that they can go toe-to-toe with the top-rated, super comfortable Sony WF-1000XM4s, and you just have to fork over an extra $20 for it.
As they should from the audio experts at Technics, the EAH-AZ80s sound warm, distortion-free, and balanced across the frequency spectrum no matter the kind of music you're playing. Plus, the Audio Connect app allows you to adjust the EQ as you see fit. And what would a high-end pair of earbuds be without great ANC? Cohen put the AZ80's ANC to the test and found that they do a great job at effectively blocking out all the noises of life — street sounds, commute noise, crowds, and more — just as well as some brands much better known for their ANC, such as Sony, Bose, and Apple. Customizable transparency mode also allows for fine-tuning the amount of outside noise you want to hear, too.
Android users can take advantage of hi-res audio playback with support for Sony's LDAC Bluetooth codec, and if multipoint Bluetooth connectivity is a feature you're after, the AZ80s are unique in that they offer three connections at a time instead of the standard two, which means you can connect to, say, a laptop and two different smartphones, if you like, and can seamlessly switch between them. An IPX4 water resistance rating on the AZ80s means you can sweat in them at the gym and rinse them off afterwards. With ANC off, the battery power tops out at up to 7.5 hours per charge (25 total with the case), but drops a bit to 4.5/16 with ANC on. The carrying case also supports wireless charging.
Technics EAH-AZ80
Most comfortable high-end earbuds
Sony LinkBuds
The best for staying aware of your surroundings
Pros
Unique, sound-permeable design
Very good "open" sound quality
Excellent for voice and video calls
Wide Area Tap feature
Wear sensors
EQ and control customization
IPX4 water resistance
Cons
Poor battery life
Not good for noisy environments
Not very secure and may not fit some ears
No wireless charging
No Bluetooth Multipoint
Wireless earbuds are great for sound quality and for blocking out the outside world, especially when they're equipped with ANC — like the Bose QuietComfort Earbuds or the Technics EAH-AZ60. But these models are so good at blocking noise, they need a transparency mode so that you can hear what's going on when you need to. Since constantly switching between ANC and transparency can be a hassle, if you need to stay aware of the real world while you listen to music or make calls, the Sony LinkBuds are a truly unique and effective solution.
Using a special speaker design that has a hole right through its middle, the LinkBuds block no sound at all. This lets you wear them continuously throughout your day as you switch between video calls, listening to music, or talking to those around you, all without needing to reach for a button.
Despite this unusual design, the LinkBuds sound surprisingly good — like the earbud equivalent of a set of open-back headphones. As long as you're in a relatively quiet location, they're fun and well-balanced, for a wide variety of genres, though bass lovers may want to consider one of our other picks.
They're very light, and as long as you don't have tiny ears, they fit comfortably for hours at a time. Don't think of them as workout partners, though. They have IPX4 water protection, but we found they simply don't fit securely enough for running or other high-impact activities.
Sony has also added in some fun extras: Wake-word access to Amazon Alexa, auto-muting when the buds detect that you're speaking, and the ability to tap on your cheek instead of the earbuds to control things like play/pause and call answer/end.
The LinkBuds certainly aren't for everyone, but they're perfect for those who want to use earbuds without blocking out the world.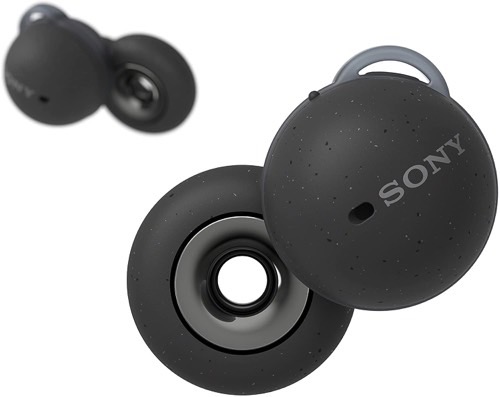 Sony LinkBuds
The best for staying aware of your surroundings
HyperX Cloud Mix
The best for gamers
Pros
Excellent battery life
Comfortable
Solid sound quality in games
Work with virtually any device
Great microphone quality
Cons
Frustrating touch controls
Expensive
No ANC
With the comfort and convenience of wireless earbuds, you'd think they'd be a natural choice for gamers, but most gamers stay as far away from wireless headphones and earbuds as they can.
Why? It turns out that Bluetooth connections introduce an unacceptable amount of lag — the delay between when an in-game sound is generated (like a foot-fall or a rifle shot) and when you actually hear it. It's a big enough problem that many serious gamers consider it a liability that can harm their results.
That's where the HyperX Cloud Mix Buds find their niche. They're Bluetooth wireless earbuds that work like any other set of wireless buds on this list. They connect to your phone or laptop and let you listen to music and take calls. But they also have a feature you won't find on the other models listed here: They come with a special USB adapter that provides a nearly lag-free wireless connection for those times when the game is afoot, and you're playing for keeps.
A small switch on the adapter lets you seamlessly move between that dedicated wireless link and a normal Bluetooth connection, so convenience is still maintained. The Mix Buds may not have advanced features like ANC or wireless charging, and bass response can't quite compare to the best full-size gaming headphones, but you do get a strong set of EQ adjustments and DTS:X surround sound processing.
When you take that into consideration, with their 30-hour total battery life and dedicated wireless connection for gaming, the HyperX Cloud Mix Buds start to look like a great option for gamers who also want to take their tunes on the road.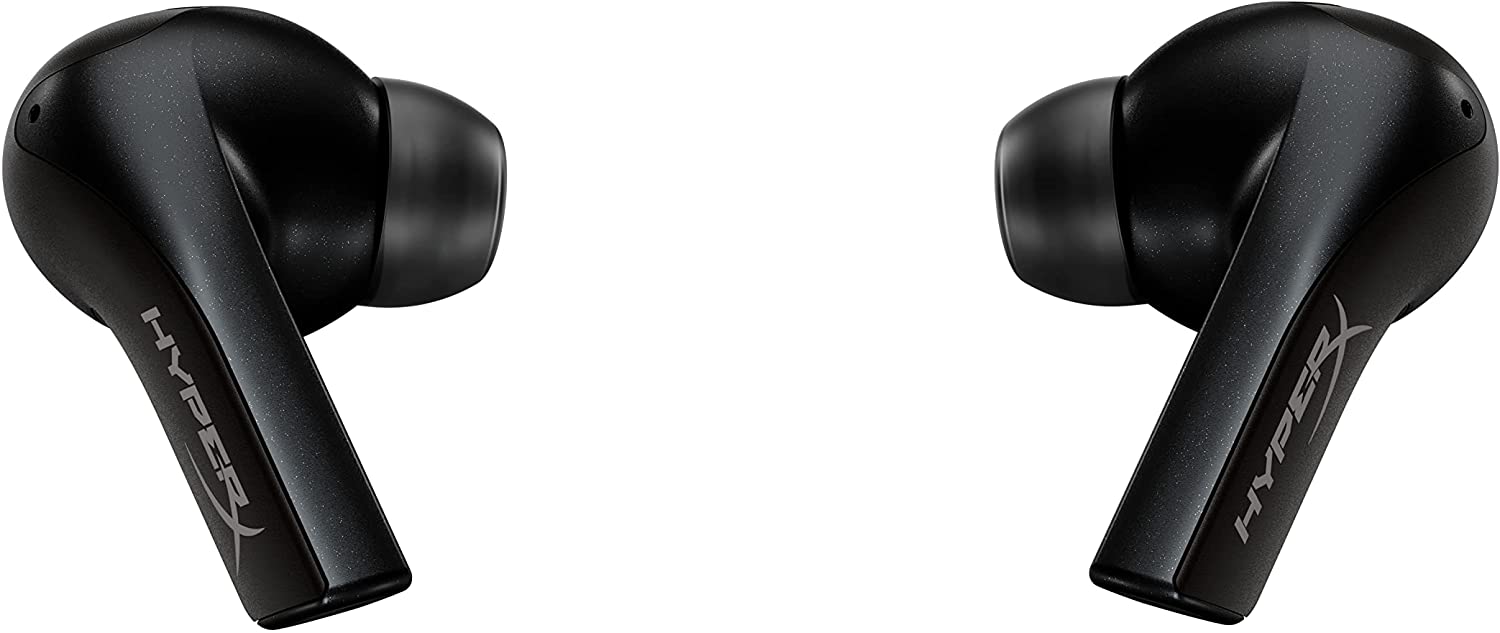 HyperX Cloud Mix
The best for gamers
Audio-Technica ATH-CKS50TW
The biggest bass and battery life
Pros
Great sound with massive bass
Huge battery capacity
Very good noise cancellation
Bluetooth Multipoint
IPX4 water resistance
aptX Adaptive
Cons
No wireless charging
No wear sensors
Bulky charging case
The Audio-Technica ATH-CKS50TW are big and chunky and so is their charging case, but if size and style aren't major concerns for you, these earbuds are chock-full of rewards and come at an unbeatable price.
Let's start with their battery life. With ANC turned off, the earbuds will last for 20 hours before dying — a huge leap over the previous battery life king, the JVC HA-XC90T, which maxed out at 15 hours. Better yet, when you add in the case's capacity, it takes you to an enormous 50 hours. Yup, more than two full days of continuous use before you need to go in search of a charging cable.
Sound quality is also superb, as you might expect from a brand with Audio-Technica's reputation. In particular, bass heads will revel in the absolutely monstrous low-end that these earbuds can pump out. This isn't just bass you hear — you feel it too. If it's too much, there's plenty of control within the companion app, where you can also adjust the control buttons to suit your tastes.
ANC is excellent, with the ability to hush most unwanted outside sounds, and the transparency mode will help you keep tabs on what's going on around you if you need it. Calling on the CKS50 is equally good, but we recommend you look for quieter places for your chats to get the best sound quality for your callers.
These earbuds aren't perfect — there's no wireless charging and no wear sensors for auto-pause, but these are small omissions that are easily compensated for by the CKS50's many positive attributes and their terrific price.
Audio-Technica ATH-CKS50TW
The biggest bass and battery life
UE Fits
A custom-molding process guarantees a good fit
Pros
Ultra comfortable and secure fit
Very good passive sound isolation
Sweat resistant
Customizable EQ and controls
Cons
Expensive
No ANC or transparency modes
No wireless charging
Some folks have a really hard time finding a set of wireless earbuds that fit their ears. Regardless of the number of included ear tips, comfort, and security prove elusive. But the UE Fits might just be the answer if this has been your experience.
Ultimate Ears (UE) has dipped into its extensive experience of providing custom-fit wired earbuds for audio professionals in order to create a product that does the same thing — at a fraction of the price – for the rest of us. No trips to the audiologist and no waiting for molds to be created.
Instead, the UE Fits use a combination of UV light and heat to turn a blank set of silicone ear tips into moldable inserts that fully conform to the shape of your outer ear in just a few minutes. The result is a set of earbuds that fit like a glove and stay securely in place no matter what you do.
Unfortunately, most of the price of the UE Fits has gone into the customization process. They are otherwise fairly basic. You won't find ANC, wireless charging, transparency mode, or any other extras. But sound quality and call quality are both good, and battery life, at six hours per charge, is perfectly serviceable.
We don't necessarily recommend the UE Fits for everyone, but for those who simply can't find a comfortable fit with off-the-shelf products, these could be the perfect solution.
UE Fits
A custom-molding process guarantees a good fit
Frequently Asked Questions
Can wireless earbuds connect to a PC?
Yes, as long as the PC has Bluetooth. Some have Bluetooth by default, but if yours doesn't, you can add it with an affordable USB adapter.
Can wireless earbuds be used on airplanes?
Yes. You can enable most devices' Bluetooth radio while in airplane mode.
Are wireless earbuds better than wired?
Not usually for sound quality, although that is changing with the introduction of higher-quality Bluetooth audio codecs such as aptX Adaptive and aptX HD, as well as the Bluetooth LE Audio standard. Wireless earbuds are better for convenience, especially now that many phone makers have stopped including a headphone jack.
Do wireless earbuds always have a charging case?
Not always, but the vast majority do come with a charging case and some come with wireless charging cases. If they don't come with a case, we strongly recommend you don't buy them.
Are wireless earbuds good for working out?
Yes, they are awesome for workouts, as long as they have waterproofing or an IP rating and fit snugly in your ears.
Editors' Recommendations